Each May, utilities and public works receive some much-deserved recognition for the services provided 24/7, regardless of weather conditions… or the COVID-19 pandemic. The essential workers who keep Public Works operations going need kudos right now, possibly more than ever. Public Works Week is May 17-23, 2020 and the theme is "The Rhythm of Public Works."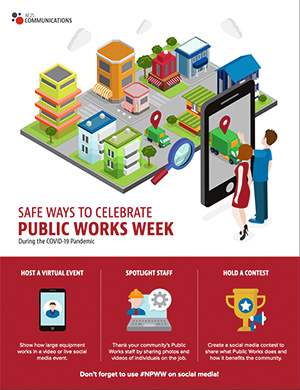 DOWNLOAD: Safe Ways to Celebrate (pdf)
Here are some ideas to celebrate Public Works while maintaining social distancing best practices:
Host a Virtual Event
Unfortunately, COVID-19 will likely force the cancellation of popular community events related to Public Works Week this year. Many cities host an open house each May with refreshments, tours of facilities, and put their large equipment on display for people to see up close. Since group gatherings are being discouraged to limit the spread of coronavirus, bringing the event online provides an opportunity to give Public Works workers the credit they deserve while maintaining social distancing efforts.
Virtual Event Ideas:
Show how large equipment works in a video or live social media event. (Check out Taylor Corbett's guide for going live on Facebook.) Kids and adults may enjoy seeing:

Garbage truck pick up and dump trash, before compacting the garbage.
Dump truck unloading a pile of dirt or sand.
Snowplow blade moving up and down.
Bucket lift a forestry worker or fireman up in the air (with appropriate safety gear, of course).
Water coming out of a fire truck hose.
The inside of a fire or police vehicle.
Tour of the water or wastewater treatment plant.

Reach out to teachers who bring their classes on a Public Works event field trip each spring. Perhaps they would like to take their classes on a virtual field trip. Public Works staff could talk about their jobs, show off equipment, and answer students' questions via the city's or school's video conference system.
Spotlight Staff
Seize the opportunity to thank your community's Public Works staff on social media by sharing photos and videos of individuals on the job along with fund facts about the work they do all year. Make sure to use the hashtag #NPWW for National Public Works Week.
Fun Fact Ideas:
Number of gallons of water and wastewater the operators treat each day.
Tons of trash solid waste crews pick up each month.
Miles of road snowplow operators travel each season.
Average time it takes to fill a pothole.
Tons of salt or sand road crews spread on icy roads each year.
Tons of sandbags used for flood mitigation.
What the forestry department does with all the branches they trim and pick up each year.
Hold a Contest
Create a contest on your utility's or City's social media sites to attract attention to what Public Works does and how it benefits the community. To attract interest in the contest, offer a fun prize such as new Lego set for the winning entry. The winner can be determined by popular vote on social media or by a panel of Public Works staff. In addition to drawing attention to Public Works Week and engaging local kids, a contest can also increase the number of followers the utility or City has on social media.
Contest Ideas:
Lego creations: Invite kids to construct Public Works-related designs such as trucks, water towers, or public works job sites using Legos. Participants should post a photo on social media to enter the contest.
Art contest: Children can draw or paint pictures of Public Works trucks, infrastructure, or jobs and then post their work on social media.
Check out the downloadable materials from the American Public Works Association for more ideas to celebrate Public Works Week. If you would like help creating personalized graphics or organizing a virtual event for your City or utility, AE2S Communications is here to help – contact Heather.Syverson@ae2s.com.